If you live in the State of California, you got an AMBER Alert last night just before 11 PM. If you have an iOS device, you saw something like this on your lock screen: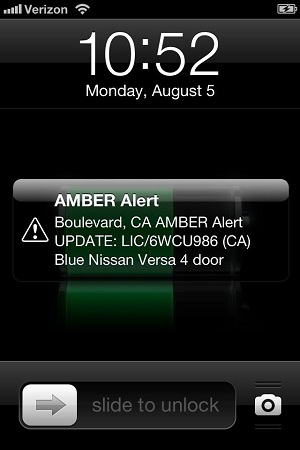 Or like this in Notification Center: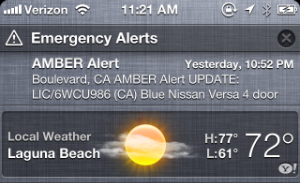 And if you're like most people, you had no idea what it meant. Considering it's a broadcast to locate missing children, that's a bad thing. Let's examine the usability of this alert and think about how this system can be improved.
Updated August 6th, 2013: Lex Friedman has written a great summary of AMBER Alerts at Macworld. Among the revelations: the text of the messages are limited to just 90 characters!
First Impressions
In our household, there are many iOS devices. At the time of the alert, we were in the living room with two iPads and an iPhone. The alert's sound is designed to get your attention, and that it did!
Both my wife and I gave each other that "what the hell is wrong" look as I grabbed my iPhone from my pocket. Turns out we weren't the only ones who were frightened by the sound:
That Amber Alert tone you received on your cell phone might have scared some of you but we need all eyes out for this http://t.co/w9hfIq7Y2p

— CHP Southern Div. (@CHPsouthern) August 6, 2013
My wife's first question as I looked at my phone was "Are we having a tsunami?" (we've had these kind of emergency broadcasts before.) I replied with, "No, It's an AMBER Alert". To which she replied, "What's that?"
And therein lies the first problem: I had no idea.
Unlike all other notifications on my iPhone, I couldn't interact with the alert. There was no way to slide the icon for more information or tap on it in the Notification Center to get additional information. Through a combination of Google and my Twitter timeline, I eventually figured it out:
Given the confusion I'm seeing on Twitter, it's really stupid that you can't tap on the AMBER alert and get to this: https://t.co/ghAxdSQbun

— Craig Hockenberry (@chockenberry) August 6, 2013
But I was also seeing a lot of people on Twitter whose response to the confusion was to ask how to turn the damn thing off. And since AMBER Alerts aren't affected by the "Do Not Disturb" settings, a lot of people went to Settings > Notification Center so they wouldn't get woken again in the future.
That's exactly what you don't want to happen when a child is abducted.
Alert Text
In looking at the message itself, it's hard to tell what it's about. Starting an alert with an acronym may make sense to the government, but there's wording that could resonate much effectively with normal folks:
Most folks have no idea of the reason these are called Amber alerts. Just call them "Missing Child Alert". Watch everyone take notice.

— Michael Jurewitz (@Jury) August 6, 2013
It's also hard to tell if this is a problem with "Boulevard, CA" or a "Nissan Versa". And where is Boulevard? And what does a Nissan Versa look like? Who do I call if I see license 6WCU986? In summary, this notification provides more questions than answers.
This one image has answers to all of these questions and more. Why can't I see that image after tapping on the notification?
The Alert Sound
As I mentioned above, the sound definitely let us know that something was wrong. But we were sitting comfortably in our living room. A friend of mine was driving at the time and probably listening to music from their iPhone on a car stereo. Being startled at high speed is dangerous:
We got the amber alert while driving last night. It almost caused an accident due to us panicking over the bizarre klaxon sound.

— Jonathan Wight (@schwa) August 6, 2013
Unlike the devices that existed when the AMBER Alert system was first introduced in 1996, our iPhones and iPads do a lot more than calls and texts. Music and video are immersive activities and hearing a loud horn can be a cure that's worse than the disease.
Also, we're all conditioned to immediately look at our phone when the normal alert sounds are used: a simple ding would have gotten just as much attention.
Do Not Disturb
And what the heck is up with this crazy sound happening if Do Not Disturb is turned on? Dammit, it's my phone and I get to tell it what to do. Stupid Apple!
Well, take a look at your government first:
@janeylicious @drwave It's government dictated/mandated as-is.

— Tyler Hawkins (@iphone_tyler) August 6, 2013
@iphone_tyler @drwave @chockenberry @Jury Emergency and AMBER alerts are specifically exempt from DND.

— Morgan Grainger (@morgangrainger) August 6, 2013
And if you want the details, it's only going to cost you $205 to download:
@drwave @chockenberry @Jury Looks like the specification requires (an expensive) purchase… https://t.co/QqCXJnjuaA

— Tyler Hawkins (@iphone_tyler) August 6, 2013
Bottom line: these bugs aren't going to be easy fixes.
(And if you think getting woken up because of an AMBER Alert is such a terrible thing, why don't you explain your pitiful situation to this boy's parents.)
File A Radar
Even though these bugs probably aren't Apple's direct problem, I'm still going to file a bug report. If you have a developer account, please feel free to duplicate that Radar.
Apple is in a very unique position to address these issues:
It has direct access to millions of customers and their mobile devices.
It employs many people with a deep understanding of how mobile devices are affecting our lives.
This is clearly a problem where cooperation between Apple, the Department of Justice, and the public can improve a system where everyone benefits. Better usability with AMBER Alerts is case where "think of the children" isn't a trite platitude.